"I spent 3 days making this great video to present an artwork and it only has 100 views…"
Some contents, however excellent, have limited visibility in relation to the time invested in producing them. This is often due to weak promotion or the fact that they are difficult to access.
But you want some good news?
In this article, you'll find out how to make the most of all your content, right down to your mediation routes… Giving a second life to content: video, photos, tutorials, audio… it's a well-known concept. It's called content upcycling. It's a proven practice that allows you to maximize the views of your content in relation to the production time you've devoted to it.
Before, during or after the visit, the best tool for pushing the right content at the right time to the right visitor… is the chatbot! Designed to reflect your institution's image, whether for a temporary exhibition or a permanent collection, it's the key to immersing the public in the heart of your universe. The chatbot is also a hub, allowing you to centralize all your content in one place, so you can showcase it in the best possible way.
Without further ado, here are 3 practical examples of content (but there are many others) that can be integrated into the chatbot for upcycling!
Mediation that rings true 🎼
From sound bites to podcasts, there's something for everyone. These days, it's podcasts that are all the rage! They are often in the form of an interview, a conversation, or a speech ranging from a few minutes to several hours. It's a free-flowing format that fosters creativity.
There are 3 good reasons for the trend towards audio content:
You don't need much to listen to a podcast: a smartphone and headphones! Almost everyone has these devices at their disposal. Access to audio content is therefore accessible to all visitors.
Sound content is also a way of keeping visitors engaged throughout an exhibition. Without having to take any additional action, the voice guides the user to strategic points in the mediation seamlessly.
Once the user has familiarized themselves with a chatbot's audio content, they are more inclined to enter the world and atmosphere of a museum and/or exhibition. Soliciting two to three senses simultaneously will provide visitors with a much richer experience.
Take the chatbot at the Centre Pompidou in Metz, for example. Archy invited visitors to listen to audio capsules to learn more about a particular work or artist. Remember Archy? To help you understand it better, we've made a video about it.
Ultimately, audio content is a format that, when integrated with the chatbot, combines pedagogy and immersion.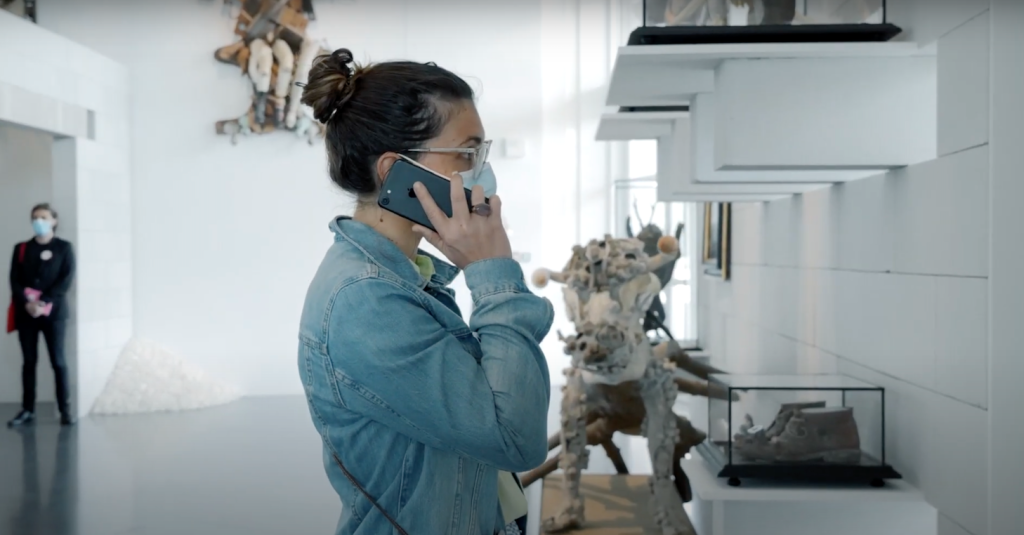 A picture is worth a thousand words
Sometimes, the best way to make a point or share an emotion or feeling is with a picture! And over the past few years, digital visuals have introduced a number of attractive new formats: the digitization of works of art, GIFs, high-definition photos, the enhancement of old photographs… Re-exploiting your image bank in mediation means opening up a whole new world of cultural exploration and adventure!
Images enable users to better visualize and capture information more directly. As an institution, integrating visuals that adhere to your editorial line into your chatbot will brighten up and energize the conversation, while adding a touch of levity.
It's also possible to envisage other uses for these resources. Some institutions have decided to create their own GIFs. One example is the Musée de Cluny, which, in preparation for its reopening, took the opportunity to rework the museum's graphic identity and offer this kind of animated image. A real success!
For the Tous à L'Opéra! campaign, we developed a playful scenario designed to attract young audiences. We integrated numerous resources created within the opera houses taking part in the project. These included images of performances, backstage footage… and even GIFs!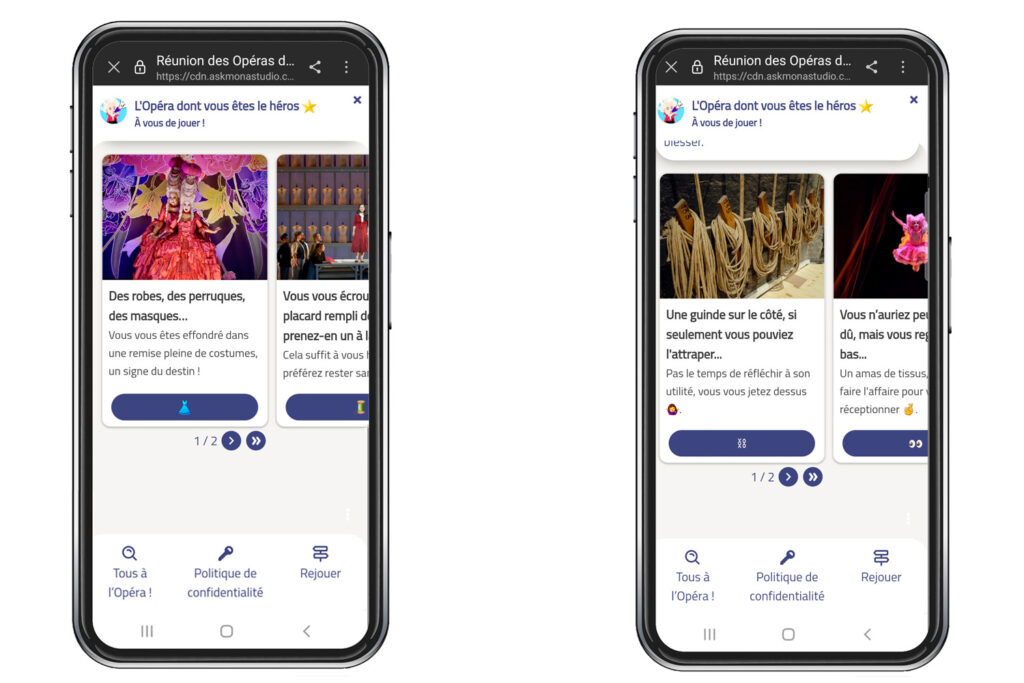 As you can tell, images are very popular media, and very easy to integrate into chatbots. Let's move on to the last piece of content we wanted to discuss here…
Star of the 21st century: video
Halfway between photos and podcasts, videos are fantastic mediation tools! They allow you to explore a subject in greater depth, both visually and in audio form. Adapted to the needs of different audiences (from the youngest to the oldest), they are often associated with entertainment, but they also embody important teaching and educational missions. Ideal for cultural institutions!
Why are videos essential in a mediation chatbot?
They're a great way to take a break from the mediation route – exhibitions are often very dense in content, lasting over an hour. Being able to take a few minutes to watch a video is the perfect way to freshen things up. Your visitors will thank you for it!
In a chatbot, videos are directly embedded in the conversation. So visitors don't interrupt their conversation with the institution by watching the video; on the contrary, they enrich and continue it.
For the chatbot developed with the Centre Pompidou, we drew on the videos they had produced on particular artistic movements or concepts. Once the visitor learns about a work in the collection, he or she is offered video content to explore the subject in greater depth.
So, did you like these ideas for increasing the visibility of your content? Are you ready to upcycle your various media with an information or mediation chatbot?
There's a large digital audience out there nowadays, which needs to be regularly fed with content. So if we can give you one piece of advice: reuse your content until you've reached your maximum number of views.
Together, let's put in place a content strategy that engages and captivates your visitors! Meet with our team!