Artificial intelligence has become a widespread craze. Everyone is talking about it. Some see it as the future of humanity, while others fear its development. At Ask Mona, we see artificial intelligence as an incredibly powerful tool, capable of enriching the visitor experience.
Artificial intelligence in culture
We recently unveiled our newest product: Ask Historic. This innovation uses the power of ChatGPT to bring a historical figure to life. With a simple click, your visitors can engage in conversation with the likes of Marie-Antoinette, Van Gogh, Napoleon, and many more. This offer is available on any support (on a tablet, on a display within the museum, via a QR code…) before and during the visit. But that's not all.
Discover the first connected magnet
We have just transformed one of the best-selling souvenirs in cultural institution shops into a phygital object that extends the visitor experience. It's the first connected magnet that lets visitors chat with an iconic historical figure.
You can now offer this unique object in your institution's shop. You can choose characters from our catalog (Marie-Antoinette, Van Gogh, Napoleon, and hundreds of other personalities) or create a customized character. We can create a unique magnet for your institution, or on the occasion of an exhibition!
Combining the power of generative artificial intelligence with one of the most collected souvenirs is a real opportunity for your institution.
Where does the data come from?
Keep control over the data transmitted by artificial intelligence. We can feed our platform with your documents and resources (biographies, cartels, documents produced for an exhibition…). The artificial intelligence will draw its sources directly from them. You'll avoid misinformation from unreliable websites.
A new source of income
This unique offer has the potential to become a significant source of revenue for your shop. Not only will visitors be able to take home a special souvenir, but they'll also have access to a new and exciting experience that will keep them coming back. What's more, this offer will enable your store to set itself apart from the competition by offering an innovative experience.
Extend the visit experience
The connected magnet is more than just a physical object. By offering the opportunity to engage in conversation with a historical figure, it creates an immersive and entertaining experience that enables visitors to better understand history and engage with your institution's exhibits. You will give your visitors a lasting memory!
Selling these souvenirs will enhance the visibility of your cultural venue. Indeed, the person is likely to display the object at home or give it as a gift.
The connected magnet offers an additional advantage: it's interactive and can be used several times. Users can access the experience and share it with friends and family. By enabling visitors to try out your products at home, they will be more likely to come for a visit. This interactivity strengthens visitor engagement and creates a lasting bond with your institution.
The visitor experience with the connected magnet
On the back of the magnet is a QR code. By scanning it, visitors access an interface that allows them to live the immersive experience. They can then engage in conversation with the historical figure represented on the magnet.
Once the code has been scanned, the visitor is directed to a messaging interface based on the magnet's design. All they have to do is choose the language they want from the 5 available, and start the conversation!
The visitor can ask any question that comes to mind. Here's a (non-exhaustive) list of questions they could ask Marie-Antoinette:
"Who are you?"
"Can you tell me an anecdote?"
"What was life like at the court of Versailles?"
If they lack inspiration, they can click on the "Give me an idea" option. Once they've written their message, all they have to do is send it to start the discussion.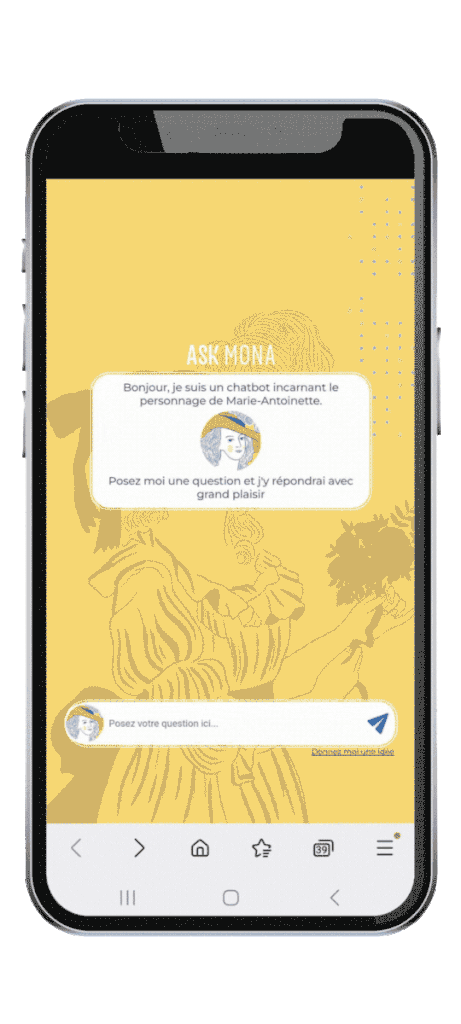 Thanks to its intuitive interface, the connected magnet is easy to use for all visitors, whatever their age or level of familiarity with technology. What's more, it's available in 5 languages, making it the ideal tool for foreign visitors wishing to discover culture while having fun.
If you'd like to try it out for yourself, get in touch with our team !
Behind the scenes of the connected magnet
One of the most common concerns associated with ChatGPT is the possibility that it may draw its sources of information from the Internet. This can lead to the dissemination of false information from a variety of sites. At Ask Mona, we give you control over the data transmitted to the AI. No more errors found on the Internet, we choose only reliable sources.
We let you select the sources that will feed the AI to avoid such errors. You can feed the tool with biographies, documents designed for an exhibition or any other type of resource containing information relevant to the immersive experience.
In addition to controlling the information given by the character, we can personalize his or her style of expression, tone, and reactions.
Would you like to offer these souvenirs in your shop?
Let's schedule a demo together !